Numbers lie 😐
Numbers take out the emotions from the equation.
They don't tell the whole story.
An overview of my December stats! 👇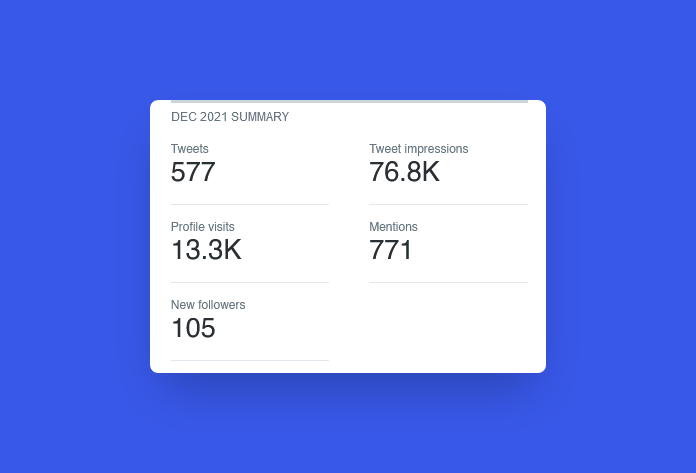 Feelings and emotions play a significant role in what I do.
But tracking cold numbers and understanding metrics is the way to optimize.
Below I compare this month's stats with November ones.
Tweets
577
+50% increase over the previous month 📊
I'm pretty happy about the growth, even if I'm still far from reaching my target level.
December has been double-face.
It was swift for the first three weeks, then a sudden stop where it felt like the desert for the holidays.
To grow consistently, I need to range between 700 and 1000 tweets/month, but 600 is already good enough.
After all, I'm satisfied!
Impressions
76.8k
More than double compared to November 🤩
With only ~45 tweets, despite the higher number –replies excluded–.
Some of them gained gripping traction, even 20x my followers' count.
Feels great to see so many impressions over my top tweets.
And this month's winner is a small win I shared about an achievement!
Am I starting to understand something? (No, of course 😂)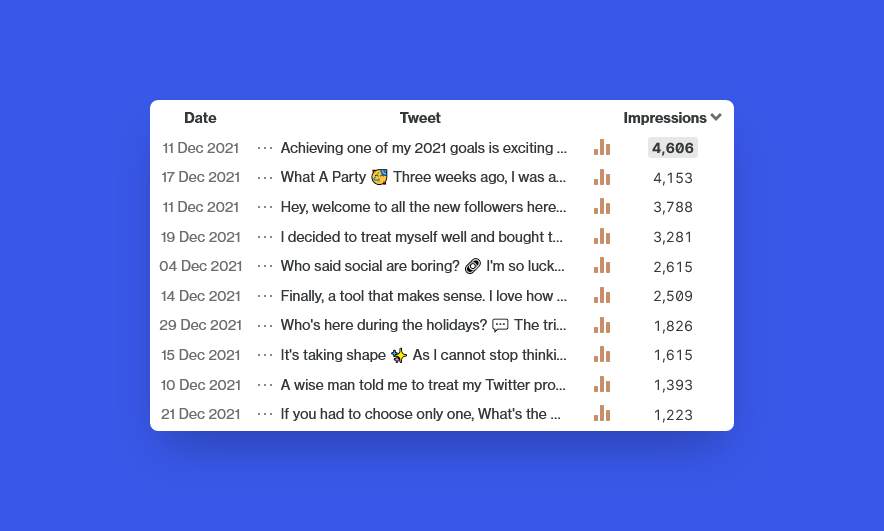 Profile visits
13.3k
There was a +72.5% increase in profile visits and a negligible drop to 17.32% in click rate (was 21.35%).
At least I know I spark curiosity with my tweets 🙂
New followers
105
Only a +20% compared to the previous month but still, I love it!
Even tho, I should improve the 0.79% CR. It reflects my internal confusion.
Sum up
👍 +105 (net) new people that trust me, thank you!
😍 Many new friends and connections.
👎 The urge to find my identity.
😕 Tweak the offer. I know I can do better!
Thanks for reading.
Feel free to follow me @heymattia and support me during my Twitter journey!